Tomorrow (2/1) is Sports Day!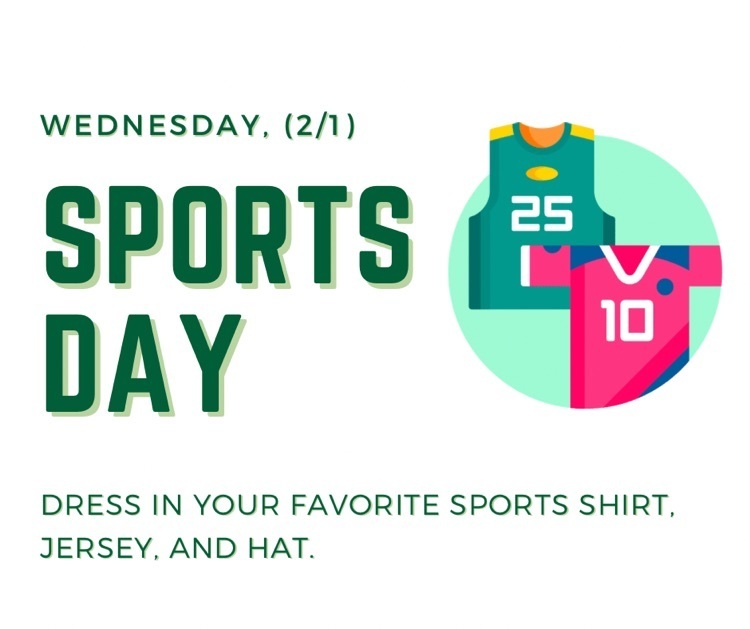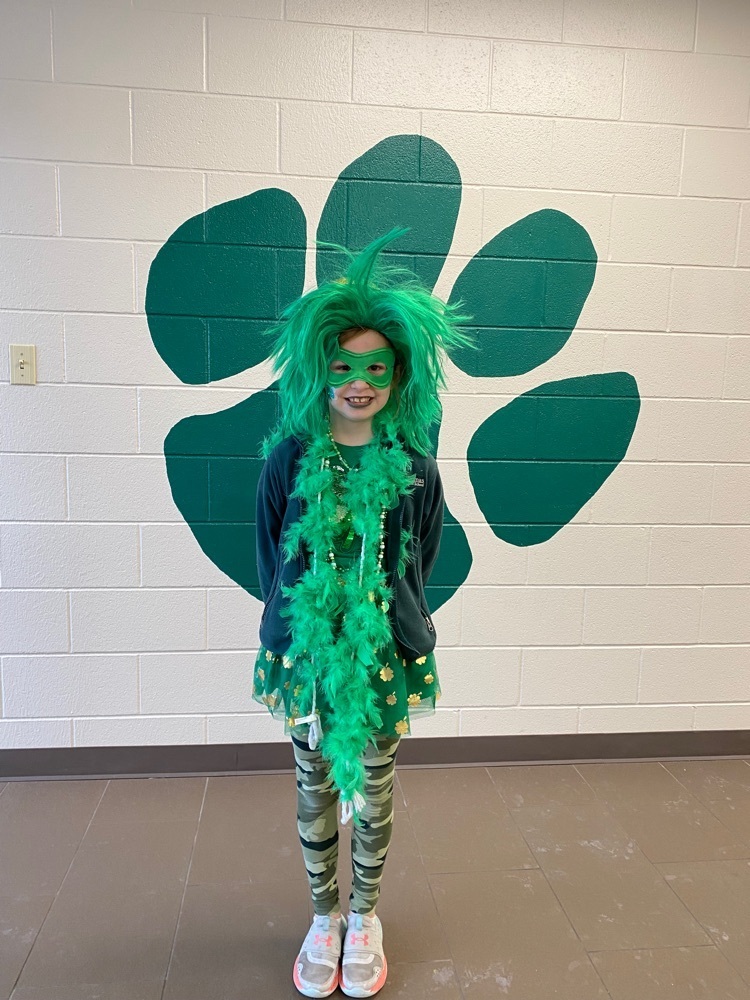 Pajama Day tomorrow (1/31)!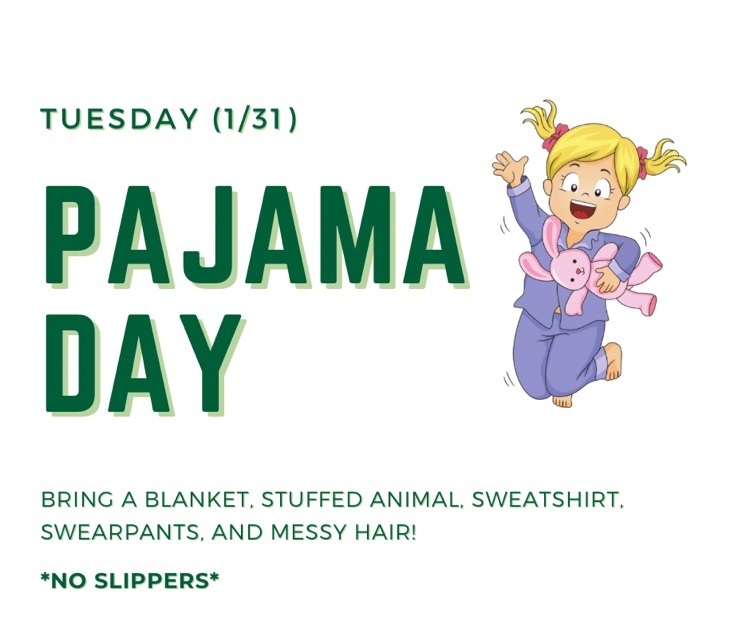 3rd Grade Parent Lunch this Wednesday, 2/1 at 11:30 AM in the Aftercare Room.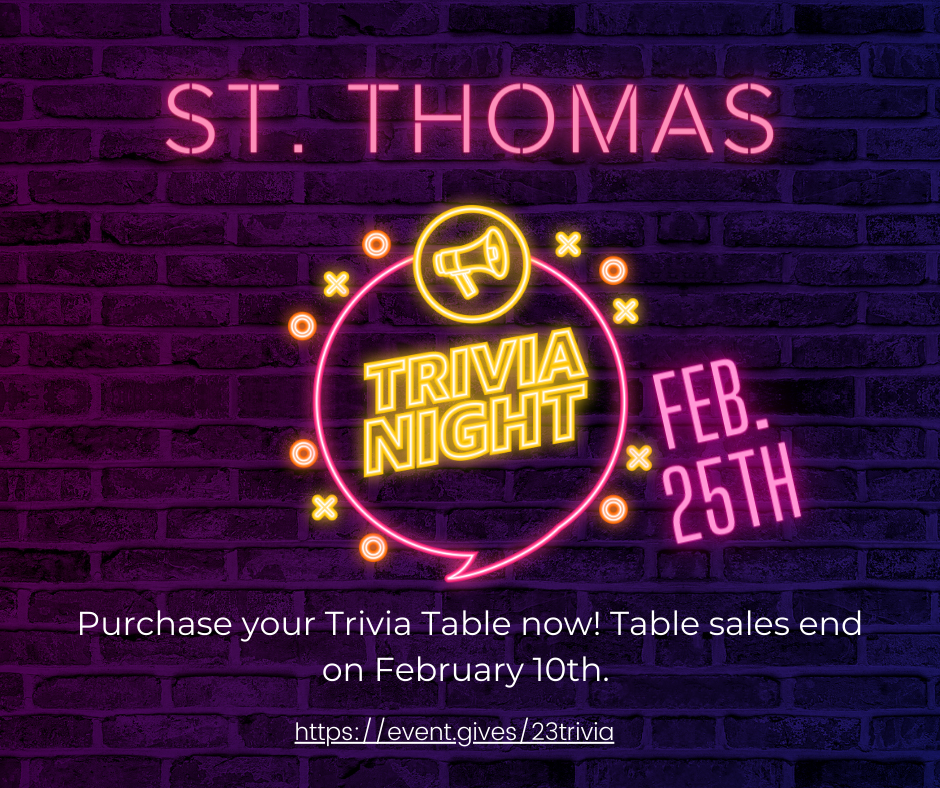 Super Spirit Day tomorrow (1/30)!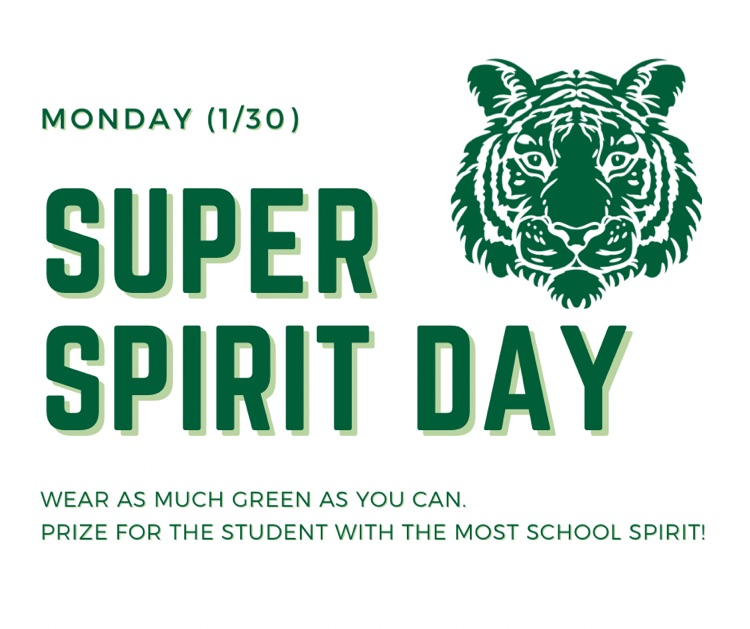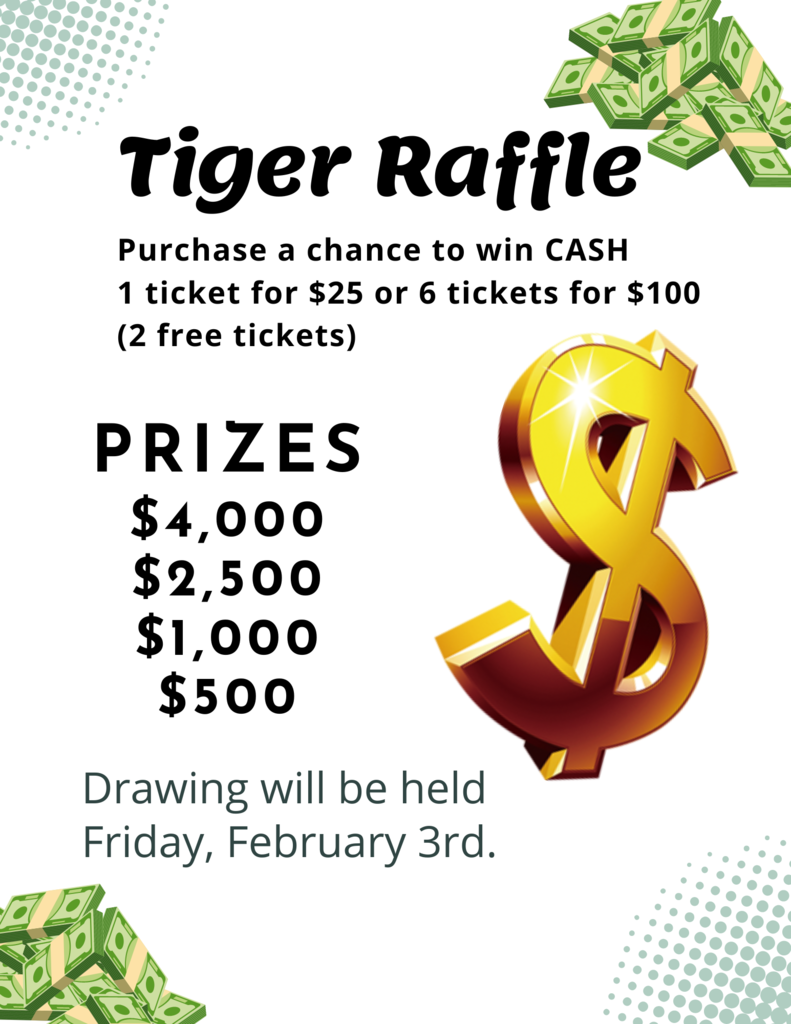 Trivia Night is a month away, so make sure to purchase your table at
https://event.gives/23trivia
. Our team is working hard at collecting fabulous auction items that we will be putting up soon.

We are excited to announce the Knights of Columbus will be hosting a Free Throw Championship at St. Thomas School in the Trost Gymnasium on Sunday, February 5th, at 2:00 PM. Contestants need to be between the ages of 9-14.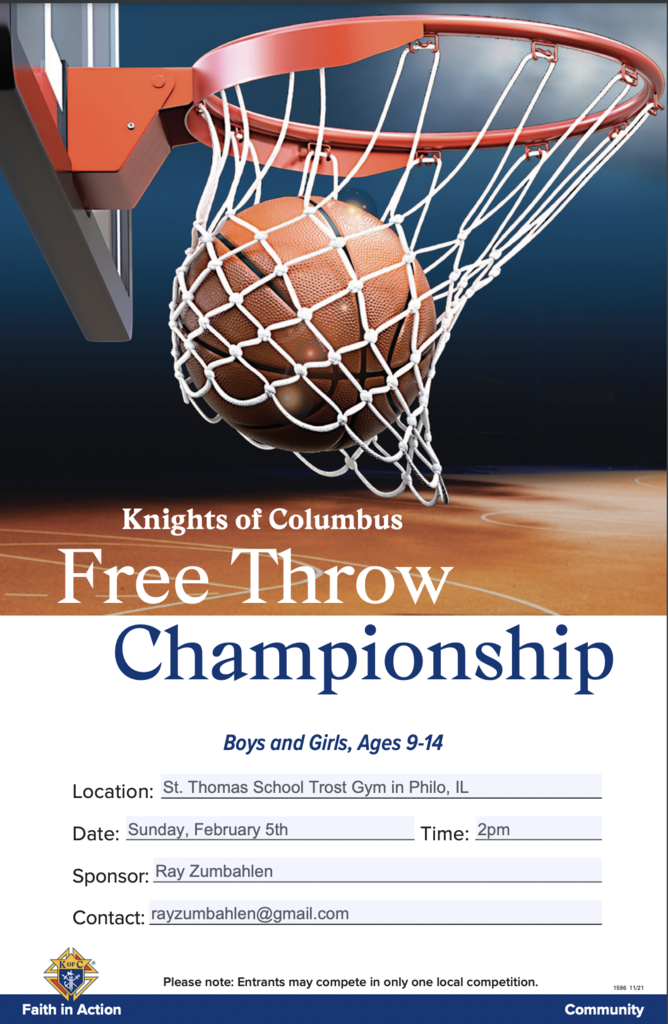 Due to weather conditions, St. Thomas School is doing a remote learning day. Teachers have sent materials home and/or will reach out to parents with what is expected for the remote learning day.

PTO is kicking off Catholic Schools Week with a Glow Dance on Saturday, 1/28, from 5 PM - 9 PM. PTO will provide hot dogs and lemonade, and families are welcome to bring their own non-alcoholic beverages. Please sign up at the link below for a side dish to bring and to help make this a fun event for all students.
https://www.signupgenius.com/go/10c0e44a5ae28a5f9c70-cswglow#/

Thank you to all our families for selling calendars and Calendar Raffle Tickets. We had a record year of selling 752 tickets. Our top-selling Calendar Raffle Ticket family is the Millers. The student raffle for those who sold five or more calendars are the Cain family, the Dees family, Jacey, Nadia, and Noah. Congratulations, and thank you again for all your help selling Calendar Raffle Tickets. Anyone interested in purchasing Calendar Raffle Tickets can still buy these all year long in the school office.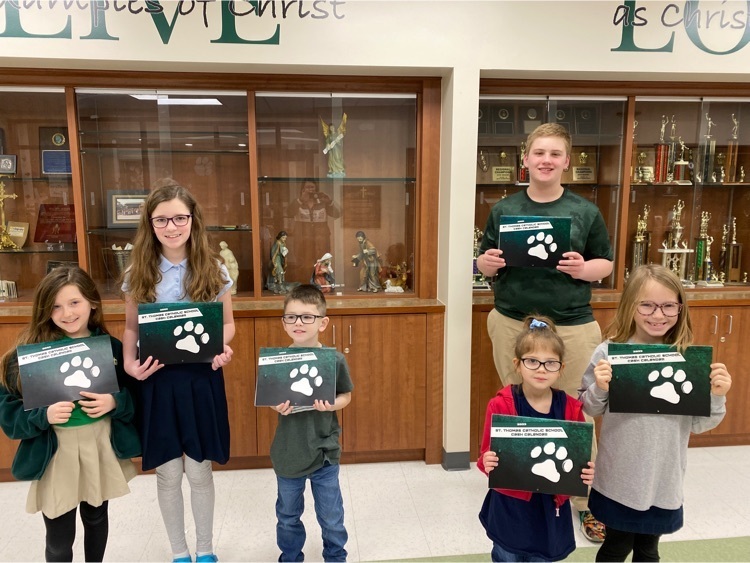 Congratulations to St. Thomas 5th - 8th grade students who received High Honors and Honors for the 2nd quarter.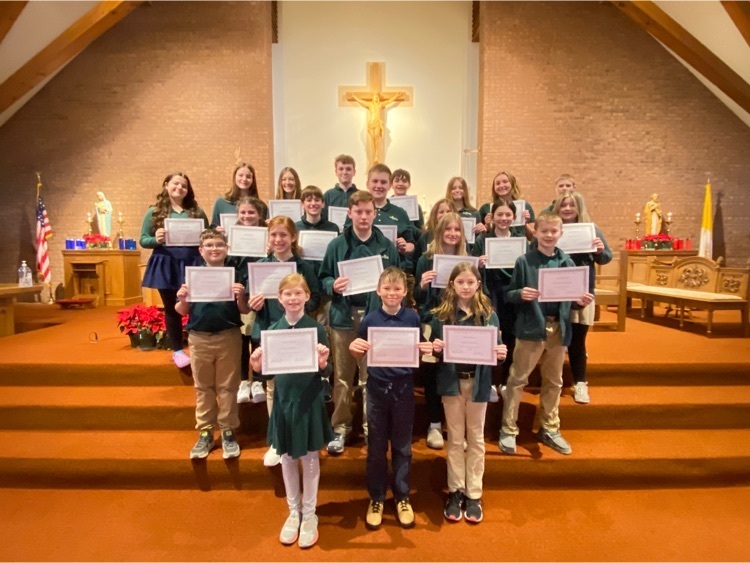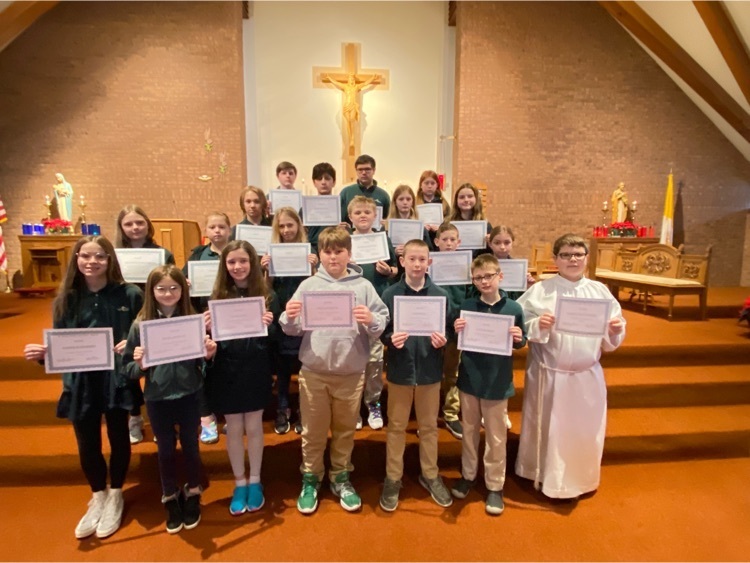 Tuesday will be Pie an Eighth Grader at 11:00 in the Schumacher Gym. The Boys Basketball Pep Rally will be at 11:00 in the Trost Gym on Friday. Below is who won the privilege of pieing an Eighth grader. Lilly Daly - Liam Brocksmith Jordan Dowden - Cady Decker James Graham - Alexis Lane Natalie Haas - Ellie Stone Nicholas Montgomery - Andrew Montgomery Emily Osterbur - Kataleya Palzan Lucy Kleiss - Annie Kleiss Quinn Lyon - Christian Miller Ryan Roesel - Xavier LeFaivre Lyllah Rodeghero - Hunter Shaw Madi Paceley - Audra Trisler Maggie Webber - Sara Thinnes

Reminder - Calendar Raffle tickets and money are due today at 3:00 PM for students to participate in the prize drawings on Monday.



Reminder - PTO Meeting tomorrow night (1/18) at 6:00 PM at the school library. Childcare will be provided.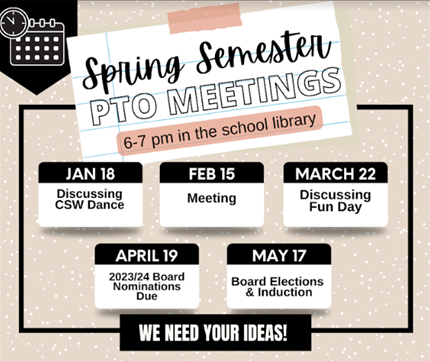 Thank you to all who participated in our Pancake and Sausage Breakfast. We have sold out of our sausage.